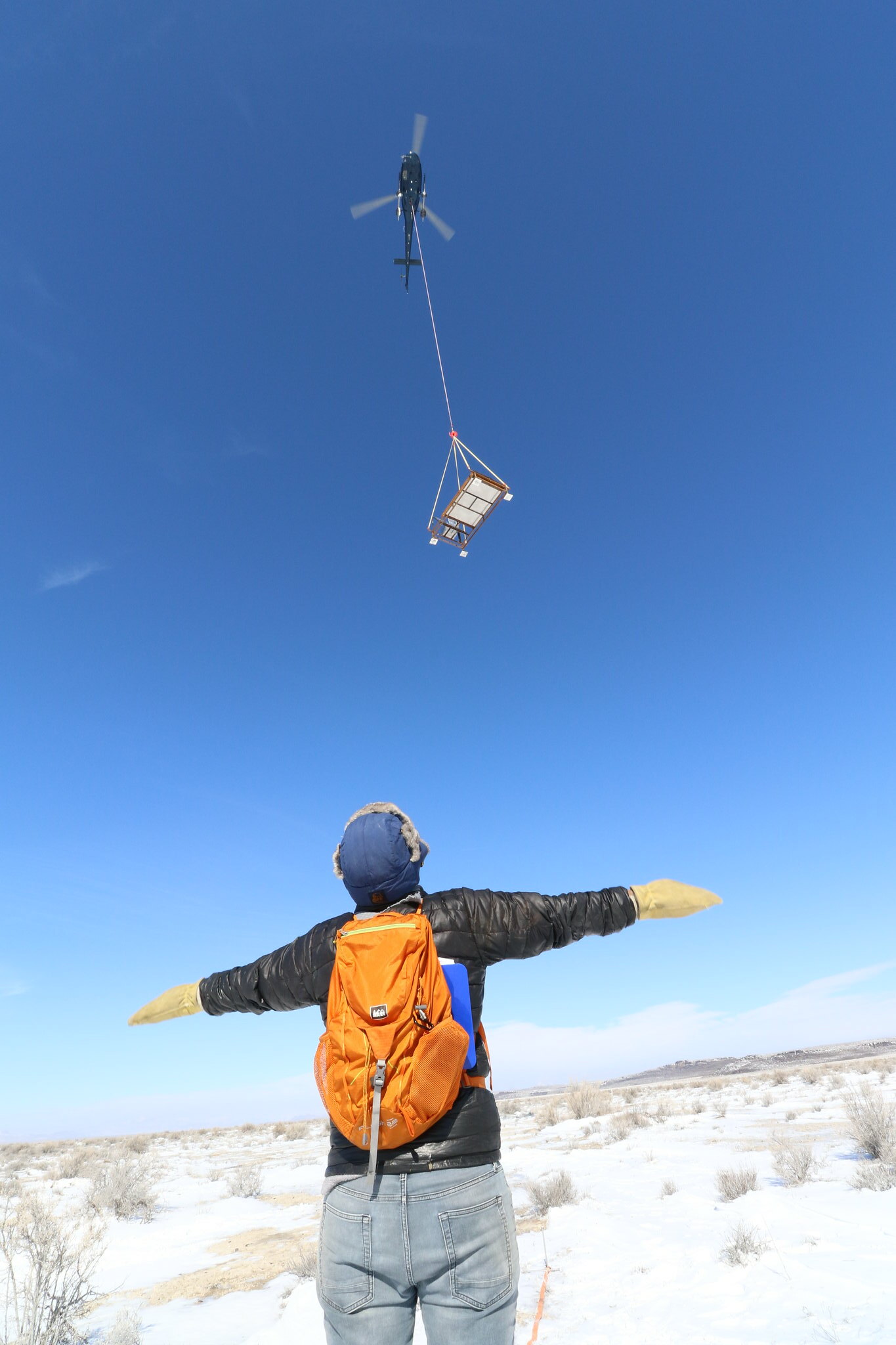 Surface detectors were deployed at the site of the extended Telescope Array (TAx4) in the period between February and March in 2019. The photograph shows that a crew was guiding a surface detector suspended by a helicopter to the ground to be deployed.
Research field Cosmic-ray Physics Experiment
Content of the research
Study of the origin of the highest energy cosmic rays
By observing the cosmic rays of about 1020eV or above, we determine the energy spectrum, arrival directions, and chemical compositions, and explore the origin of the highest energy cosmic rays and related astrophysics.
Detail of the research
The AGASA (Akeno Giant Air Shower Array) observed 11 events of extremely high energy cosmic rays of more than 1020eV beyond theoretical expectation (GZK cutoff around 6x1019eV). On the other hand, the HiRes in Utah, USA, reported the result that is consistent with the theoretical expectation. In order to solve this descrepancy decisively, we completed the ultra-high energy cosmic ray detector (Telescope Array) in March 2008, which consists of the surface detector array of an area about seven times larger than the AGASA and air fluorescence telescopes that detect air fluorescence light from air showers. The goal of TA is to measure energy spectrum, arrival directions, and chemical compositions of the heighest energy cosmic rays and explore their origin.
The TA group found an evidence for a cluster of the highest-energy cosmic rays, which we call the hotspot, near the foot of the Ursa Major (the Great Bear) using five years of the TA data.


Significance map of excess or deficit for cosmic rays with energies greater than 5.7x1019eV (red denotes excess and blue denotes deficit) in the equatorial coordinates. The field of view of the TA is the area above the white dashed line.(Astrophysical Journal Letters, 790:L21, 2014)
JSPS grant-in-Aid for Specially Promoted Research for the Telescope Array extension (TAx4)

(JFY2015 ~ JFY2019)
Research subject: Extended Telescope Array Experiment - Nearby Extreme Universe Elucidated by Highest-energy Cosmic Rays

the goal: to confirm the TA hotspot and to elucidate the origin and nature of the highest energy cosmic rays by quadruling the TA effective area to accelerate the pace of the data collection (TAx4 [in Japanese])

The presentation at the international conference (UHECR2014) in October in 2014(pdf)
The first phase of the construction of the extension of the surface detectors finished in February and March in 2019 (photos by ICRR public relations office, local newspaper) Now the data is being collected
The status of the deployment of the surface detectors was presented at the JPS meeting on March 15, 2019.
Some R&Ds for future projects are ongoing. In December 2012, some of ICRR TA members joined JEM-EUSO project.
Sagawa's schedule
Year 2020 -----
February 24-28: International Conference (INSTR20) held in Novosibirsk in Russia
Year 2019 -----
December 9-11: TA Collaboration meeting in Korea
September 17-20: JPS meeting held at Yamagata University
August 16-27: JFY2019 the University of Tokyo Hands-on Activities Overseas Programs (International exchange and research activities in Salt Lake City and nearby areas) Ten UTokyo undergraduate students joined the activity.
July 24 - August 1: International Conference (ICRC2019) at Madison, WI, USA
June 10-14: TA Collaboration meeting at the University of Utah
April 22-30: Korea
March 10-11: TA extended analysis meeting at Osaka Electro-Communication University
March 14-17: JPS meeting at Ito campus of Kyoshu University
March 5-9: ICRR Spring School
February 18 - March 8: Utah for the TA extension (the deployment of TAx4 surface detectors)
Photo Gallery (under construction)