The history of the Institute for Cosmic Ray Research (ICRR) began with a cosmic-ray observation hut called Asahi Hut in Mt. Norikura at the altitude of 2,770m. This small hut, built in 1950 with the Asahi Bounty for Science, developed into the Cosmic Ray Observatory (commonly called Norikura Observatory) of the University of Tokyo in 1953. It was the first inter-university research facility in Japan. The Cosmic Ray Observatory was then reorganized to become the Institute for Cosmic Ray Research (ICRR) of the University of Tokyo in 1976. Since then, ICRR has carried out various research activities on cosmic rays as an inter-university research institute.
The headquarters of ICRR is located on Kashiwa-campus of The University of Tokyo in Chiba, Japan. High-energy phenomena in the Universe and elementary particles are studied by observing various cosmic ray particles. Examples of the well-known achievements of ICRR are the observation of a neutrino burst by supernova SN1987A, and the discovery of neutrino oscillations using neutrinos produced by cosmic ray interactions in the atmosphere. ICRR's three research divisions, Neutrino and Astroparticle division, High Energy Cosmic Ray division, and Astrophysics and Gravity division, effectively promote these scientific activities. ICRR has 4 observatories in Japan; Kamioka Observatory (Kamioka underground, Gifu prefecture), KAGRA Observatory (Kamioka underground, Gifu prefecture), Norikura Observatory (2,770 meters alt., Mt. Norikura, Gifu prefecture) and Akeno Observatory (Yamanashi prefecture), and one research center (Research Center for Cosmic Neutrinos, Kashiwa). In addition, there are 4 observation bases outside Japan, located in Utah, USA, Yangbajing in Tibet, China, High Energy Astrophysics facility in Canarias (La-Palma, Spain), and Chacaltaya, Bolivia.
Since 2010 ICRR has been a "Joint Research/Usage Center", a system by the Japanese government that replaced the previous "Inter-University Research Institution" system. In 2018, ICRR was selected as one of the new "International Joint Research/Usage Center". ICRR will continue to collaborate with researchers in the field of cosmic rays and astroparticle physics in Japan, and enhance the collaboration with researchers abroad. ICRR carries out many inter-university research programs: each year, over 100 inter-university research programs have been carried out at ICRR. From 2019, ICRR is going to accept the collaboration proposals from overseas researchers. We note that most of the scientific outcomes from this institute are the results of the collaborative efforts by researchers from many institutions. In order to produce outstanding results, it is imperative that experiments be carried out by international collaborations composed of top-level researchers from all over the world. Hence, most of the experimental collaborations that ICRR is involved in are international ones.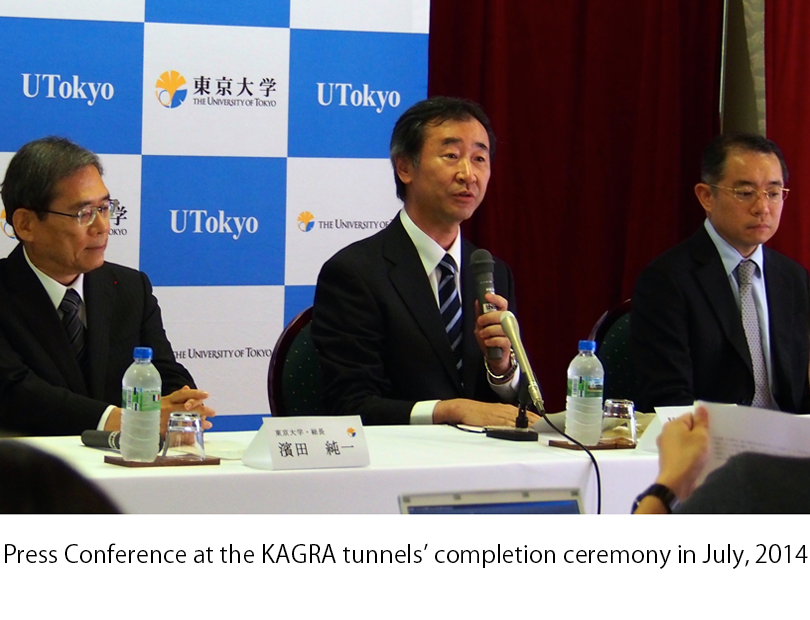 In recent years, many exciting results have been obtained in the field of cosmic ray physics by various observations in the world. ICRR intends to continue to be one of the leading institutions that contributes to the world community of cosmic ray and astroparticle physics. In order to help make decisions for the future research projects at ICRR, ICRR has periodically formed committees whose aim is to recommend our future projects. In particular, since mid. 1990s ICRR's top priority has been the construction of a gravitational wave detector (KAGRA) to detect gravitational waves which will open up the new field of the gravitational wave astronomy. In 2010, this project was approved and funded by the Japanese government.
We thank all of you who have supported this project. In order to manage the project, ICRR has established "KAGRA Observatory" in Kamioka. The construction of KAGRA is carried out with the initiative of this observatory collaborating with co-host institutions, KEK and NAOJ, and with the collaborators in Japan and abroad. In February 2016, the first observation of the gravitational wave signal was reported by LIGO. The news suggests that the new scientific field called "gravitational wave astronomy" has been established. KAGRA plans to join the global network of gravitational wave detectors to promote the gravitational wave astronomy together with the other gravitational wave projects. The onsite construction of the KAGRA interferometer has essentially finished in March 2019. We hope to begin the initial observation run by the end of 2019.
In 2011, ICRR formed the Committee on Future Projects of ICRR to discuss the ICRR's main project after KAGRA. This committee's activity concluded with a report issued in September 2013, which recommended several proposals, including CTA, a very high-energy gamma ray observatory, as the high-priority future projects of ICRR. The report provided ICRR with useful information to move forward to new scientific activities including CTA. In FY 2016, a part of the Japanese contribution for CTA, namely Large Size Telescopes (LST) for CTA-north, has been approved, and the preparation and construction works are in progress. The construction of the first LST telescope has been finished in the fall of 2018. In April 2019, High Energy Astrophysics facility in Canarias has been established in La-Palma, Spain.
It is also important to plan the future of the neutrino research that has been carried out with the Super-Kamiokande detector. Therefore, ICRR has formed another Committee on Future Projects of ICRR in 2016. This Committee has provided the report, concluding that important sciences, such as neutrino physics and proton decay, should be carried out with the next generation water Cherenkov detector (Hyper-Kamiokande), which is about an order of magnitude larger than Super-Kamiokande. In order to realize Hyper-Kamiokande, ICRR together with Kavli-IPMU, the school of Science and the Earthquake Research Institute of The University of Tokyo have created a new organization, called "Next-Generation Neutrino Science Organization". We are going to do our best to realize Hyper-Kamiokande.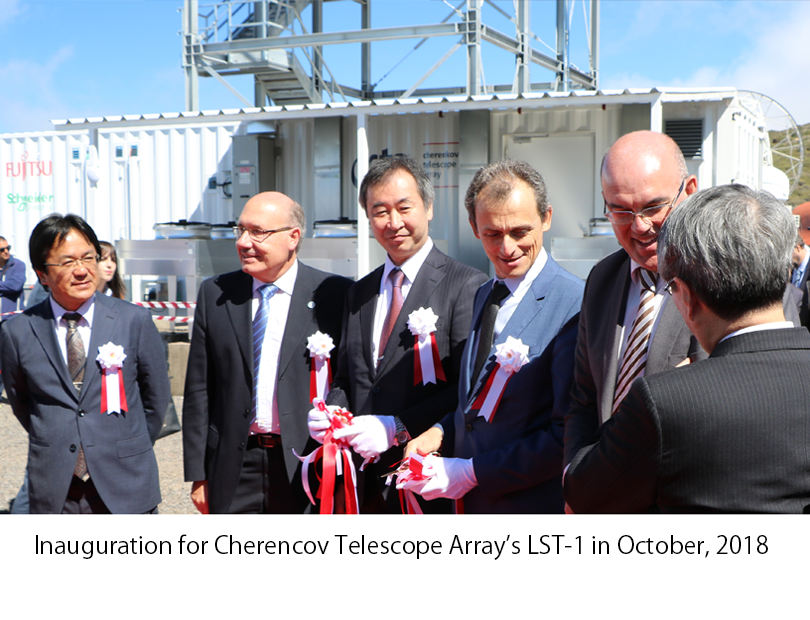 Finally, we sincerely appreciate the strong support of our colleagues in this research field, The University of Tokyo and the Japanese Ministry of Education, Culture, Sports, Science and Technology. They are indispensable for the continuing development and exciting scientific outcomes at ICRR.